Login
Log in if you have an account
Register
By creating an account with our store, you will be able to move through the checkout process faster, store multiple addresses, view and track your orders in your account, and more.
Create an account
Looking for custom logo socks? Here are 5 things you need to consider
03 Aug 2020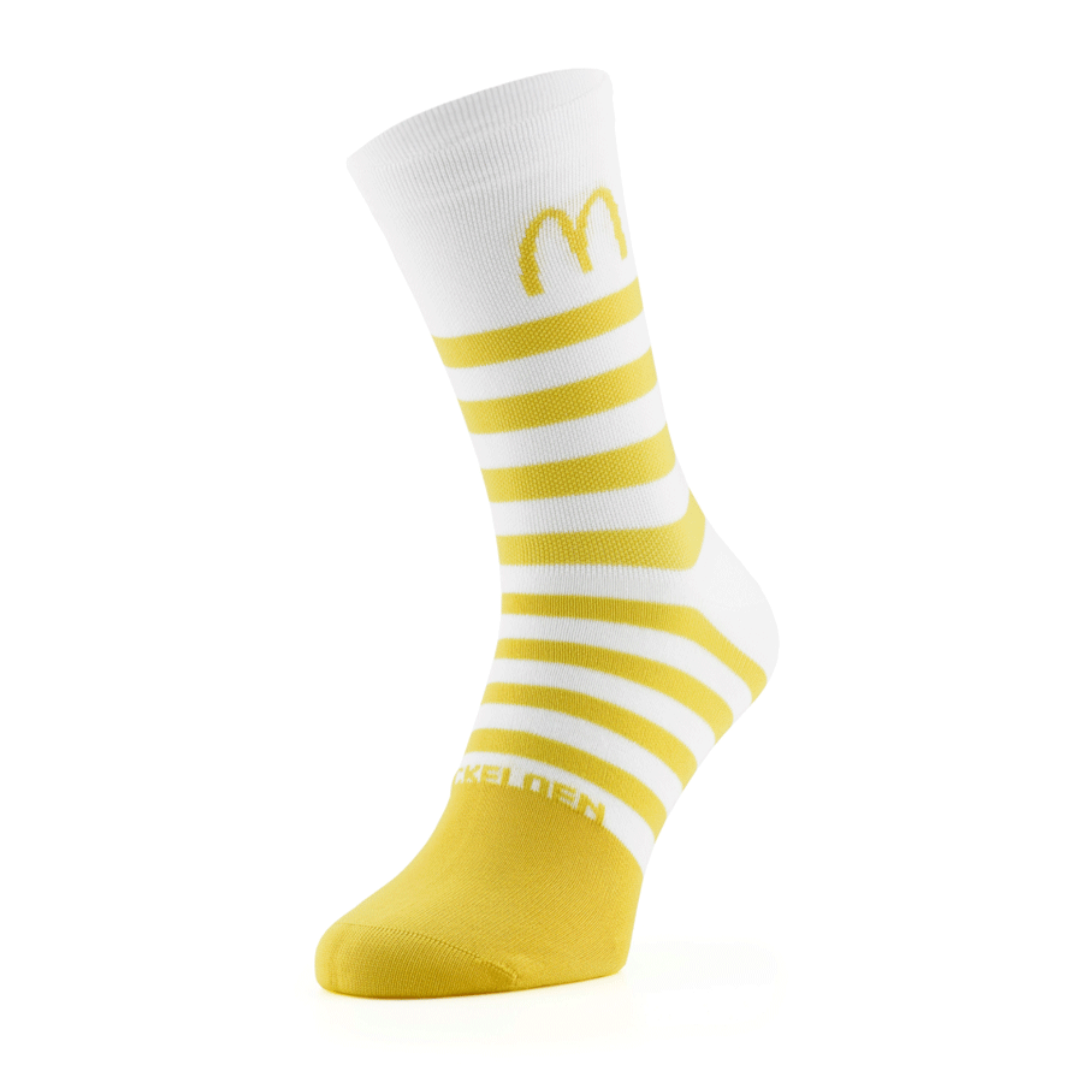 Looking for custom logo socks? Here are 5 things you need to consider
Below you find a quick summary of the 5 steps it takes to design and produce your own custom woven logo socks. In this blog, we'll go deeper into the most important things to consider during this process.
1. Let us know how many socks you'd like and what your design ideas are
2. We'll make a design with your wishes and send you specific prices and options
3. After your design approval and payment, we start the production
4. Depending on quantity, season and type, the socks will be ready after 6 - 12 weeks
5. After an internal quality check, the socks will be delivered at your door 

Where can I find a small quantities sock manufacturer? 
Most sock manufacturers only produce custom socks with a minimum of 100 pairs. At Sockeloen we have an in-house production department and an online design tool which allows us to offer custom socks starting from 1 pair. We do this by printing a digital design directly onto the sock. This is very unique and we're proud to be one of the only sock manufacturers in the world offering this service.

From 50 pairs upwards we can also make custom knitted socks. The first thing you should consider is approximately how many pairs of socks you'd like. If you just want one or a few custom socks, for example as a gift or to match with your outfit, we recommend the printed cycling socks. But if you want socks for your whole company, team or event, we also offer custom woven socks which can be ordered from 50 pairs on and prices starting at €2,74 excl. VAT per pair.
Differences printed and woven socks 
The big advantage of printed socks is that the delivery can be very quick, the design is very detailed and can be done completely online, and the minimum order amount is 1 pair. The advantage of knitted socks is that the prices per pair are lower because the production is done completely machinal. For every color in your design a special yarn will be picked, which makes the colors extra bright and these colors won't fade while stretching the sock, which can occur at printed socks. You can click here if you'd like more information on the differences between our custom woven and printed socks.
No minimum order
Our custom printed socks serve as a great present for any occasion, for example, a birthday sock, Valentine's Day sock or Christmas sock. But they're also great to make a sock matching your outfit, to make custom face socks or to make custom dog socks. You can design them yourself in our design tool on the website. You can design the sock completely yourself, or you can use one of our standard templates such as the Christmas Sock you see below which you can personalize with name and photo! After checkout, we'll get started on sublimating your design on the socks and send them to you as soon as possible, though within 7 days. Depending on the desired amount and model of socks, we offer prices starting at €12,36 excl. VAT per pair.
An indication of the custom printed prices per pair for different order amounts:
1 pair €20,62 excl. VAT
10 pairs€14,01 excl. VAT
20 pairs€12,36 excl. VAT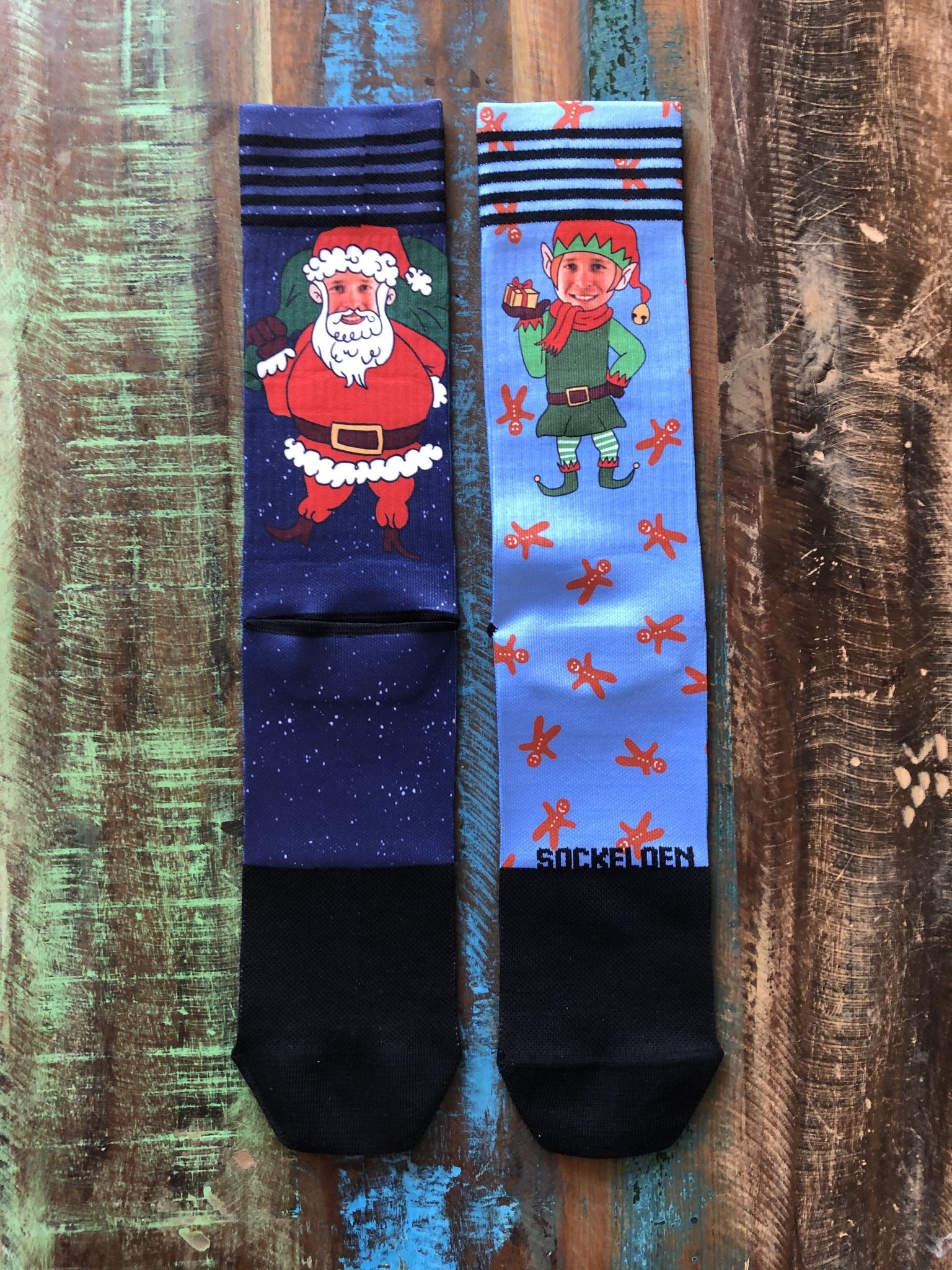 Custom woven socks
This blog will be about the custom woven socks. We offer wholesale prices for retailers, companies, teams and others who'd like at least 50 pairs of socks with their own logo on them. We can make it white label as well, so you can start your own brand, or we can add the original sockeloen brand signing, so everybody knows these socks are the best quality on the market.
The regular custom woven socks can be delivered in 6 - 8 weeks and the custom woven aero socks can take up to 12 weeks. This is somewhat longer than the custom printed socks, which take no more than 1 week to be sent. But, depending on the desired amount and model of socks, we offer prices starting at €2,74 excl. VAT per pair for the custom woven socks. The more socks you order, the cheaper they get! The next part will be about our available sock models, where we'll also give an indication of the prices.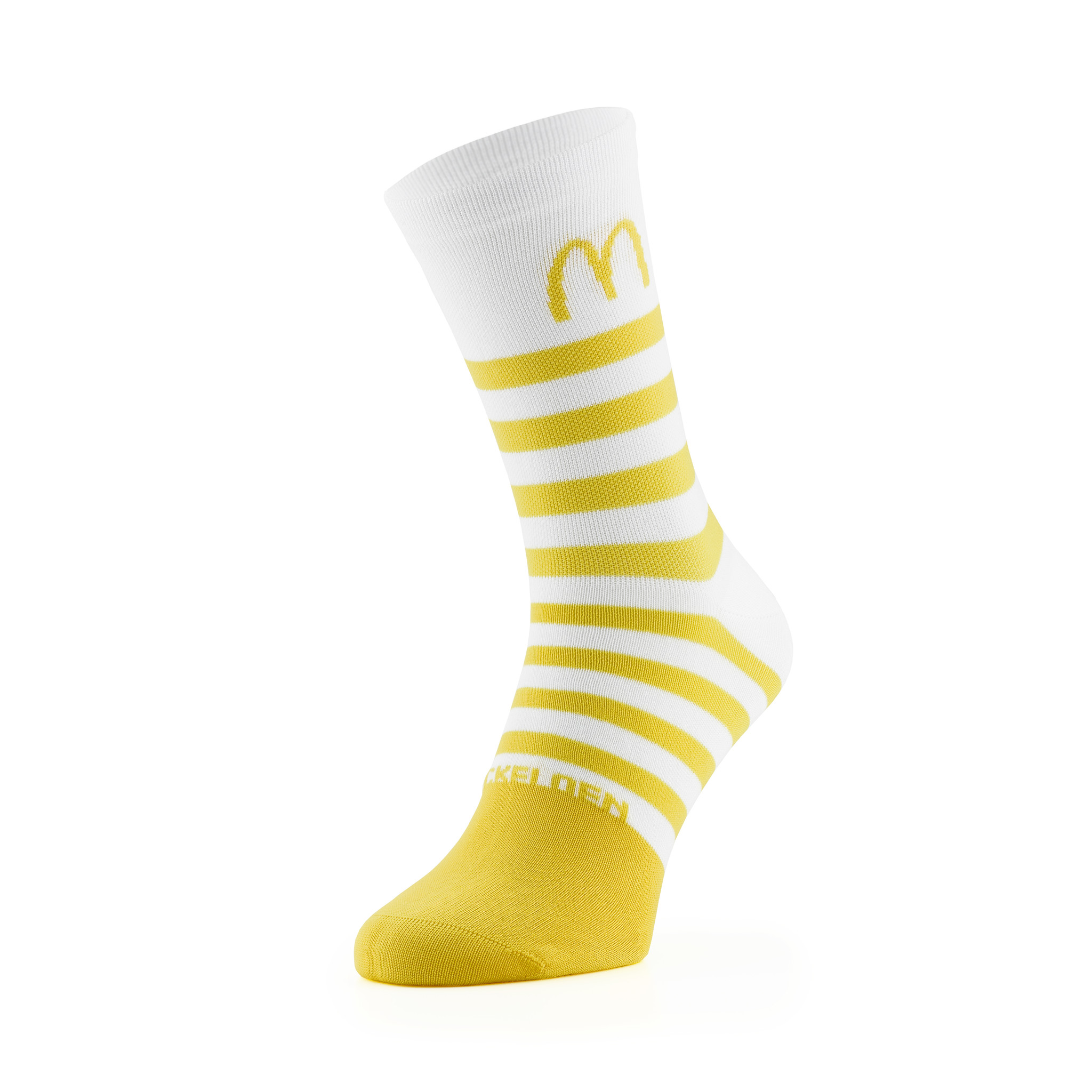 What are the socks made of? 

After determining the amount of socks you want and choosing for the custom woven socks, it's important to choose the materials you'd like to use in the sock and to decide which height and size you want. Things to consider when choosing the materials are your budget, what you'd like to use the socks for and even when you'd like to use them. For example, we offer merino wool socks which are perfect for any outdoor activity during the winter. But we can also make thin sports socks that are great for summer. Aero socks are specially made for cycling whereas our classic socks can be used for anything from dress socks to hiking or running socks.
We source all of our yarn from the Mediterranean region and we only buy the best quality materials. This makes the socks a bit more expensive than Made in China socks for example, but the quality is a lot better and the socks are much more durable.
Below you find a list with the sock models you can choose from, the exact materials they're made of, the benefits of each sock and some activities they're great for.
Classic 
The classic line is made from cotton, a naturally breathable fibre which makes it great for warm weather. It is free of chemicals, hypoallergenic and it doesn't irritate the skin. The Classic Sock has a ventilating and moisture removing weave structure to prevent sweaty feet. Besides that, the sock has a seamless toe to prevent irritation. They are made by a machine with 160 needles, which gives more detail than the 144 needles most other manufacturers use. These socks are great for any sport because they're breathable and have great feet ventilation. But they're also excellent for casual use. One day you could use them as fitness or CrossFit socks, the other day you can wear them as stylish dress socks.
An indication of the classic prices per pair for different order amounts:
50 pairs€7,50 excl. VAT
100 pairs€5,50 excl. VAT
200 pairs€4,02 excl. VAT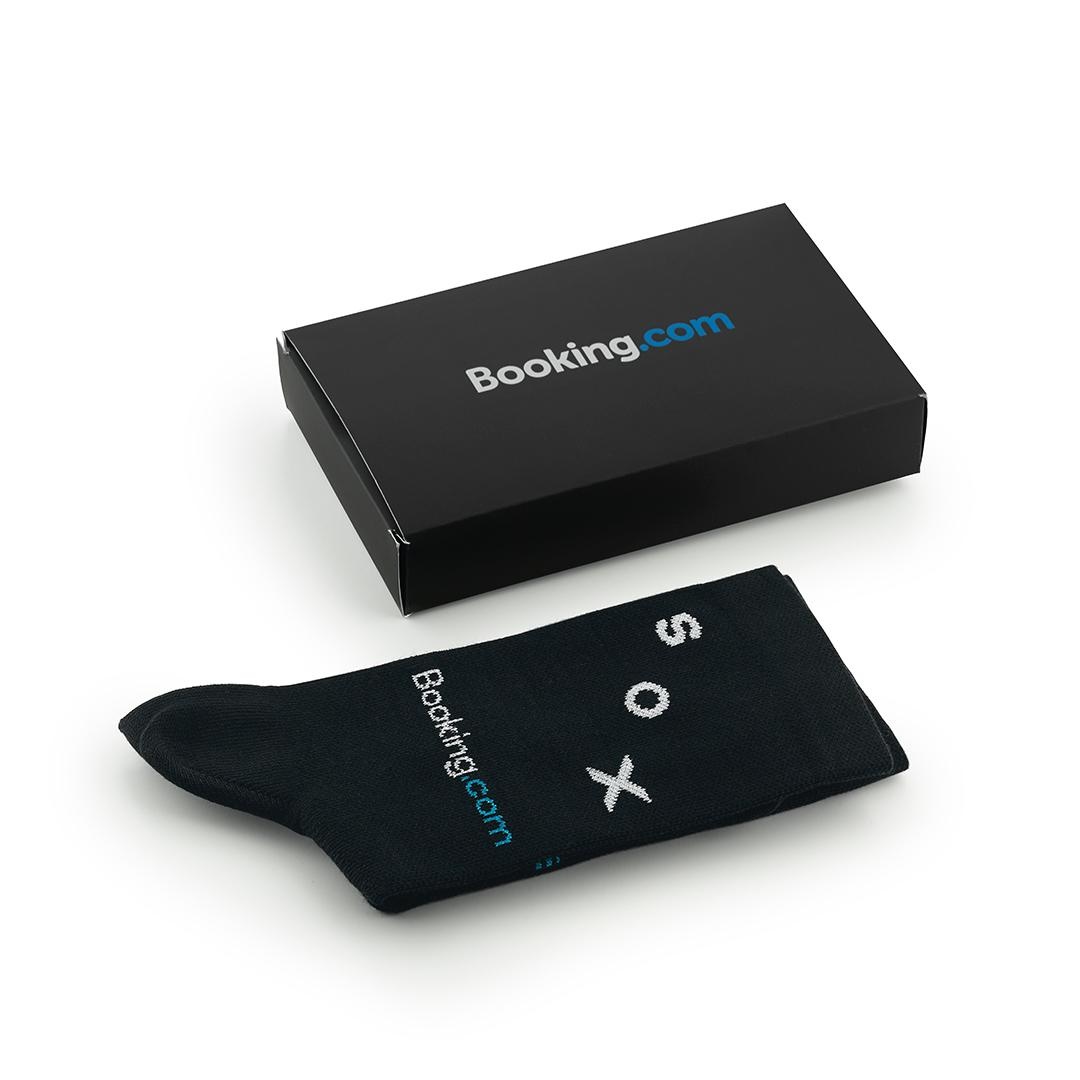 Performance 
Within the performance line, we have three options available: the Meryl Skinlife sock, the polyester sock and the Merino sock. All the performance socks are also made with a machine with 160 needles to produce higher quality socks. As extra option for the performance socks, we have mesh options available, which can be woven into the sock. You can see this on the photo below. This option is only available for the Meryl skinlife, polyester and high-performance socks.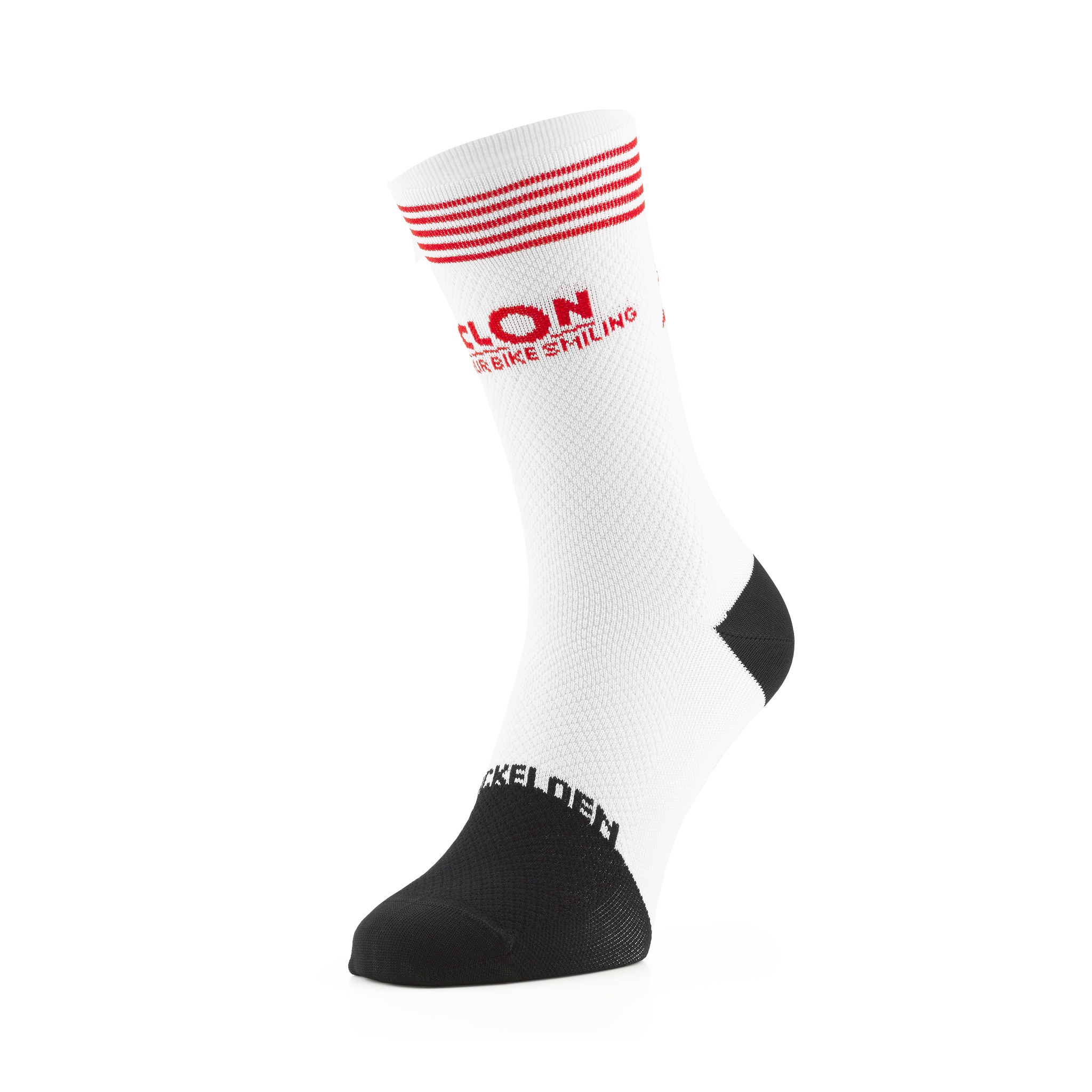 An indication of the performance prices per pair for different order amounts:
50 pairs€9,50 excl. VAT
100 pairs€6,88 excl. VAT
200 pairs€5,03 excl. VAT
The Meryl Skinlife sock is made out of Meryl Skinlife material, which is more elastic fabric for the ultimate fit. The elasticity also prevents the sock from falling down, which is the worst thing that can happen to a sock. Besides that, Meryl Skinlife is treated with iron ions which makes the fabric antibacterial. This model has a ventilating and moisture removal weave structure and a seamless toe. For extra comfort, the footbed area is thickened and has an anti-slip arch around the foot area. Besides being great road cycling or mountain bike socks, they're also highly recommended as hiking or (trail) running socks.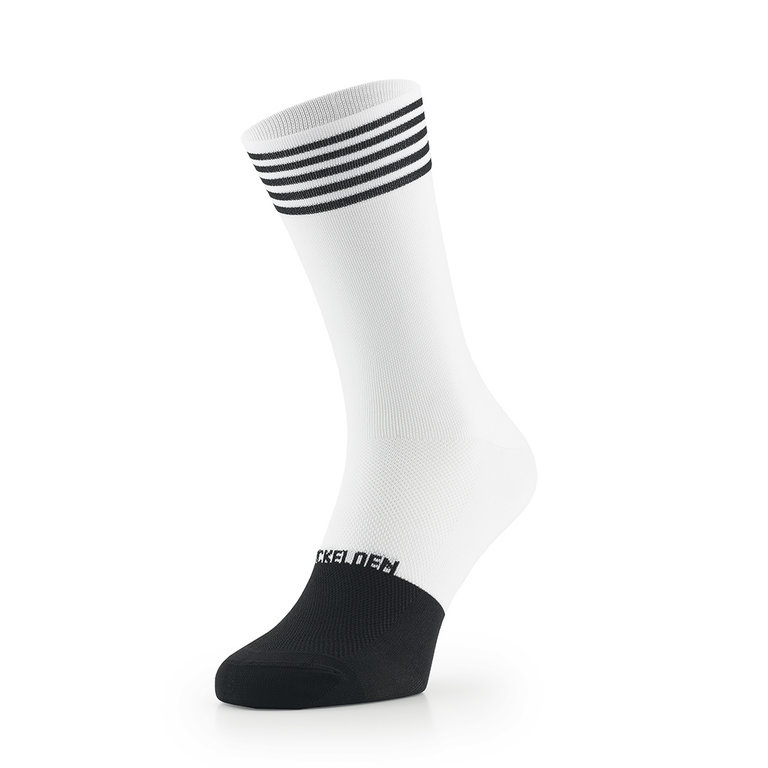 The Polyester sock is made out of polyester, a synthetic fabric which is stronger and thus more durable than cotton while still being very flexible and elastic. Polyester is popular amongst athletes for its resilience and because it dries very quickly. These socks have a nice lightweight feel and have great moisture-wicking properties. They are of course great for your bike rides, but like stated above they're beloved for every sports.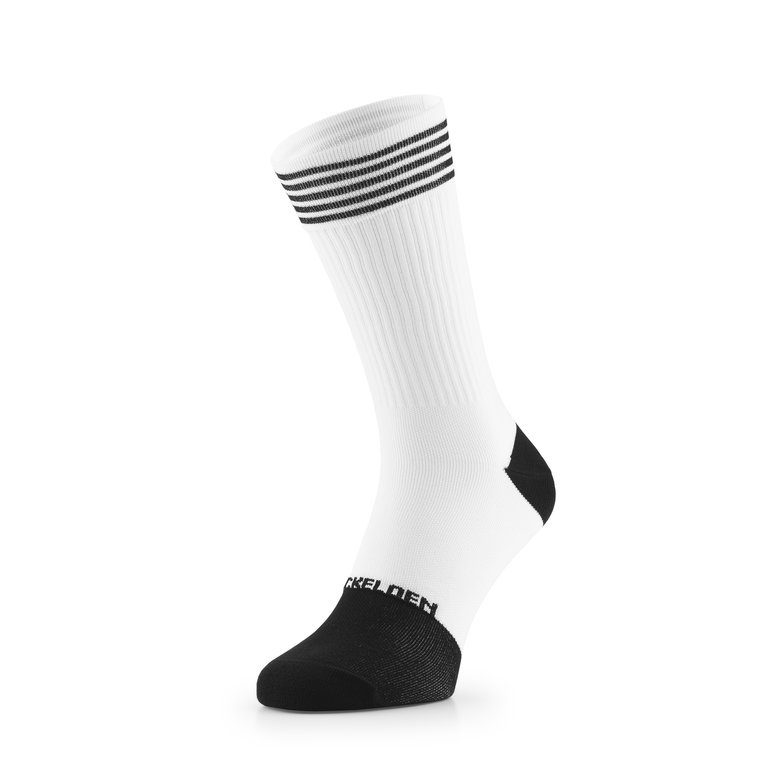 The Merino sock is made out of merino wool and is great for colder weather. Merino Wool is naturally antibacterial because it has a fat called lanolin in it which basically washes itself. Merino Wool holds body heat without overheating the body even when it gets wet, it has a natural moisture-wicking quality and it doesn't itch like normal wool! The Merino Socks have the same thickened footbed area for comfort and also provide enough feet ventilation to prevent sweaty feet. The merino socks are not only made for your winter bike rides, but are great for any athletic activity during winter. They can even be used as ski socks!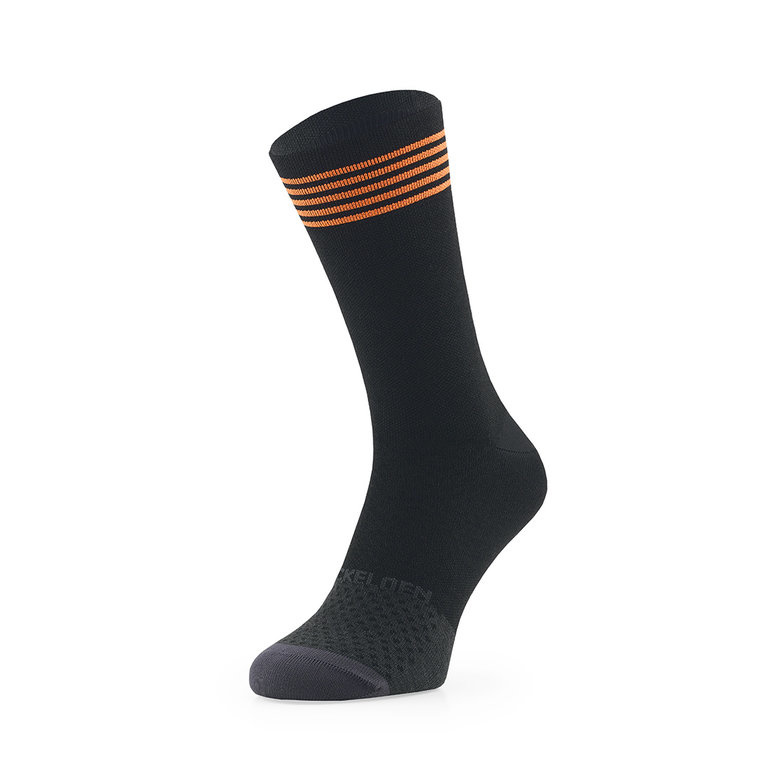 High performance 
The high-performance line is made out of Meryl Skinlife material, and also has a ventilating and moisture removal weave structure, a seamless toe and a thickened footbed. This model is made in a machine with 200 needles which can produce more detailed designs and is available from a minimum order quantity of 200 pairs per design. The big advantage with 200 needle socks instead of 160 needles is that there is more flexibility and detail. You could imagine using 200 pixels in your design instead of 160 pixels, which gives you 25% more detail! The yarns in the 200 needle sock are a little bit thinner so the sock is the same width as a 160 needle sock but with more stitches. This gives a more high-end feel to the sock.
An indication of the high-performance prices per pair for different order amounts:
200 pairs€6,68 excl. VAT
500 pairs€6,27 excl. VAT
1000 pairs€5,50 excl. VAT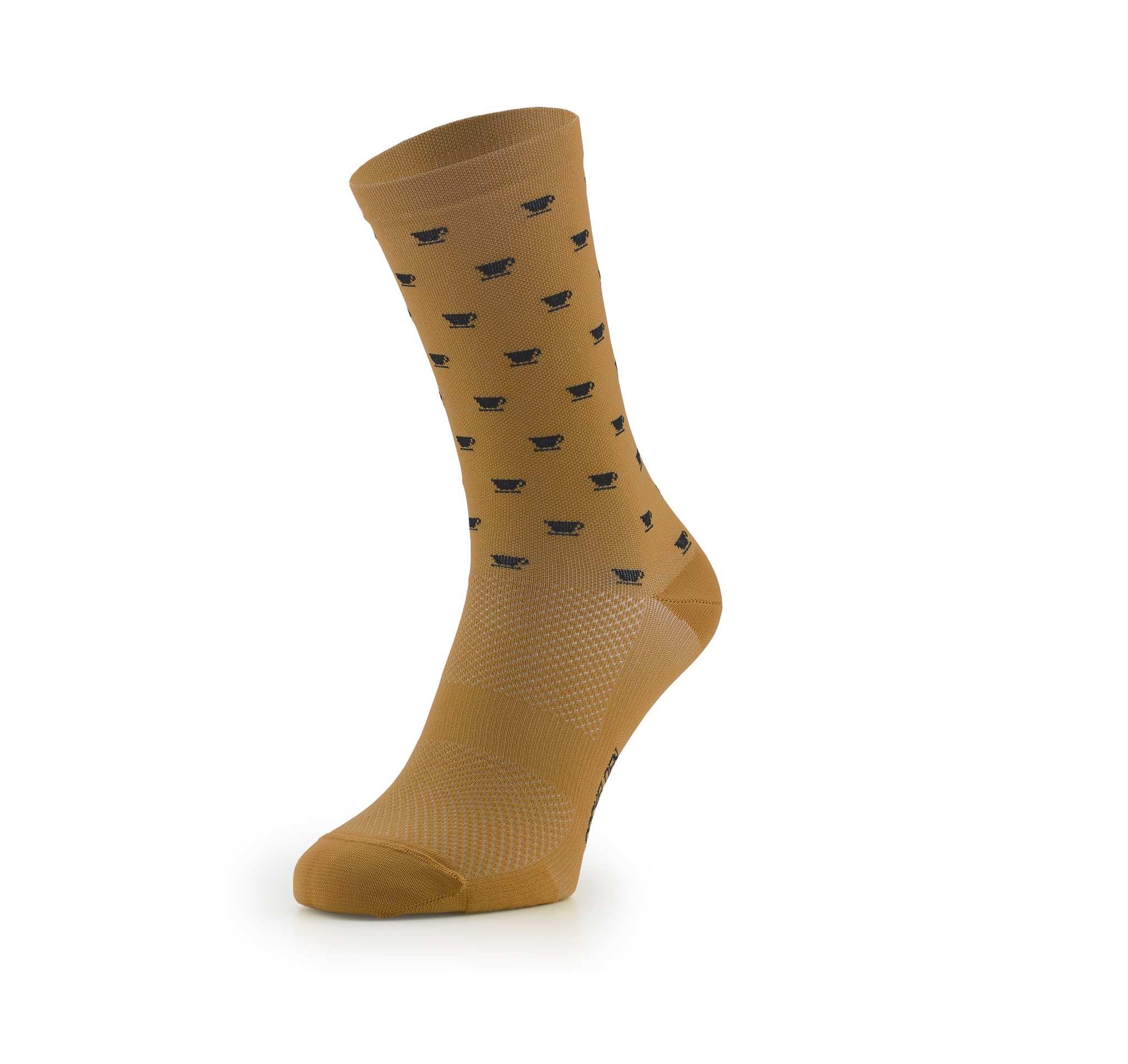 Aero socks 
Like stated before, the aero socks are specially made for cycling, but of course they're also very neat triathlon socks. It is our fastest sock and is often used in races and time trials. The bottom part that goes around your feet is made like the high-performance line. The upper part that goes around your leg is made of lycra, a fabric that makes you faster than wearing no socks or regular cycling socks. These socks also have a vertical rib to give you even more advantage. Altogether it can save you up to 4,5 watts! The special thing about our aero sock is that the aero material begins already down right in the shoe which gives you that extra aero advantage. A double anti-slip strip at the top of the sock prevents it from falling down. You can choose between different heights like we'll explain in the next part so that we can make them UCI legal.
An indication of the aero prices per pair for different order amounts:
15 pairs€19,00 excl. VAT
30 pairs€16,00 excl. VAT
50 pairs€14,50 excl. VAT
Sizes and heights 
You can choose the height of the socks yourself and they can be anything between 17cm and 23cm for all the sock models. The available sizes are:

You can choose different sizes in one order, but the minimum order quantity per size is 12 pairs.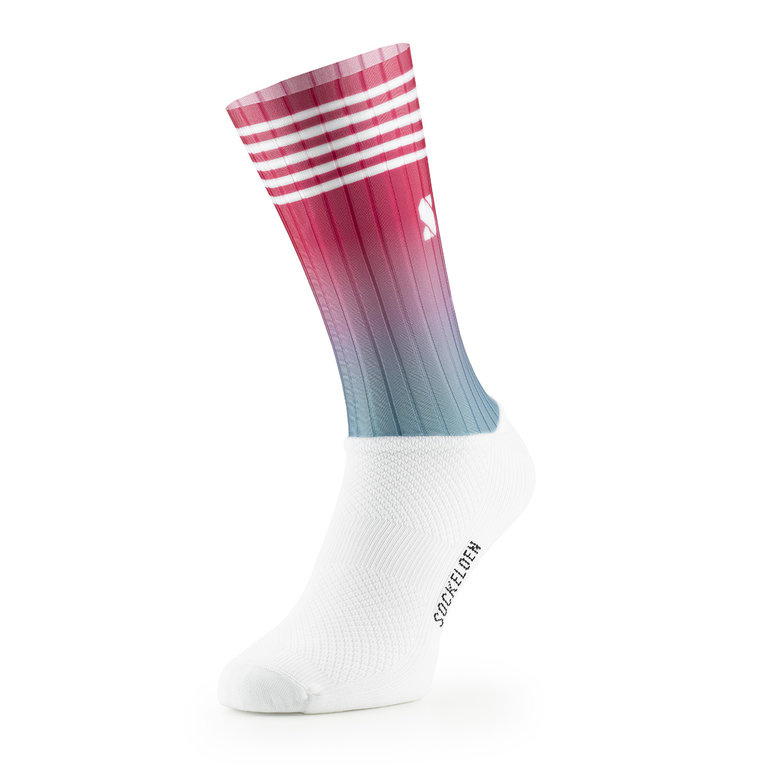 How to find a sock designer? 
The third step to get custom logo socks is designing them. You can design your socks by yourself or we will help you with the designing. You can make any design you can think of and use it for many different occasions. We can, for example, make a custom Christmas sock you can give as a corporate gift, or make socks so your whole team can have matching socks. We also offer companies to sell socks with their own design or fundraisers to make their own unique socks to give away or sell.
On our website, you can find the design tool to create your own design or you can download our template here if you'd like to work with your own editing program.
Do you need help with designing or are you just missing the finishing touch? No problem, we'll be ready to help you at any moment during the process. You can send us the design you already have with your requests and ideas, or just send us the logo you'd like on it and we'll get creative for you!
When your design is complete, we'll always review it again. If you made the design by yourself, we'll check if it is compatible and if the colours are right. If we've made the design, we'll make sure that it is fully as you wish.
How are custom socks made?
The next step is fully in our hands. Sockeloen will send the design and all the requests to our factory in Italy where they'll make your own unique custom logo socks from scratch. If you click here, you can see how our socks are made in Italy.
As you can see, our socks are carefully made with the best quality materials. We offer great working conditions and fair wages and we only hire Italy's best workers. Because of this, you might have to wait a few weeks for the socks to be made, but the results will be astonishing and you'll have great quality socks that'll last a long time. During this time the only thing you can do is the dream of your socks, but we promise we'll exceed every expectation!
Once the socks are made in our factory, they'll send them to Sockeloen where we'll review and check one last time if all the socks are okay. When they're approved we put them in a nice package and they'll be delivered to your door as soon as possible. During this process, we'll keep you in the loop of when we expect the delivery and when you can expect your socks.
Delivery times
Of course, the delivery from the Sockeloen warehouse to your doorstep will also take a little while. Here we've listed a few popular countries and the estimated delivery times from PostNL, our delivery partner. If your country isn't mentioned below, you can find all the delivery times here.
Leave a comment