Login
Log in if you have an account
Register
By creating an account with our store, you will be able to move through the checkout process faster, store multiple addresses, view and track your orders in your account, and more.
Create an account
Looking for the best personal gift? This present is great for any occasion!
17 Nov 2020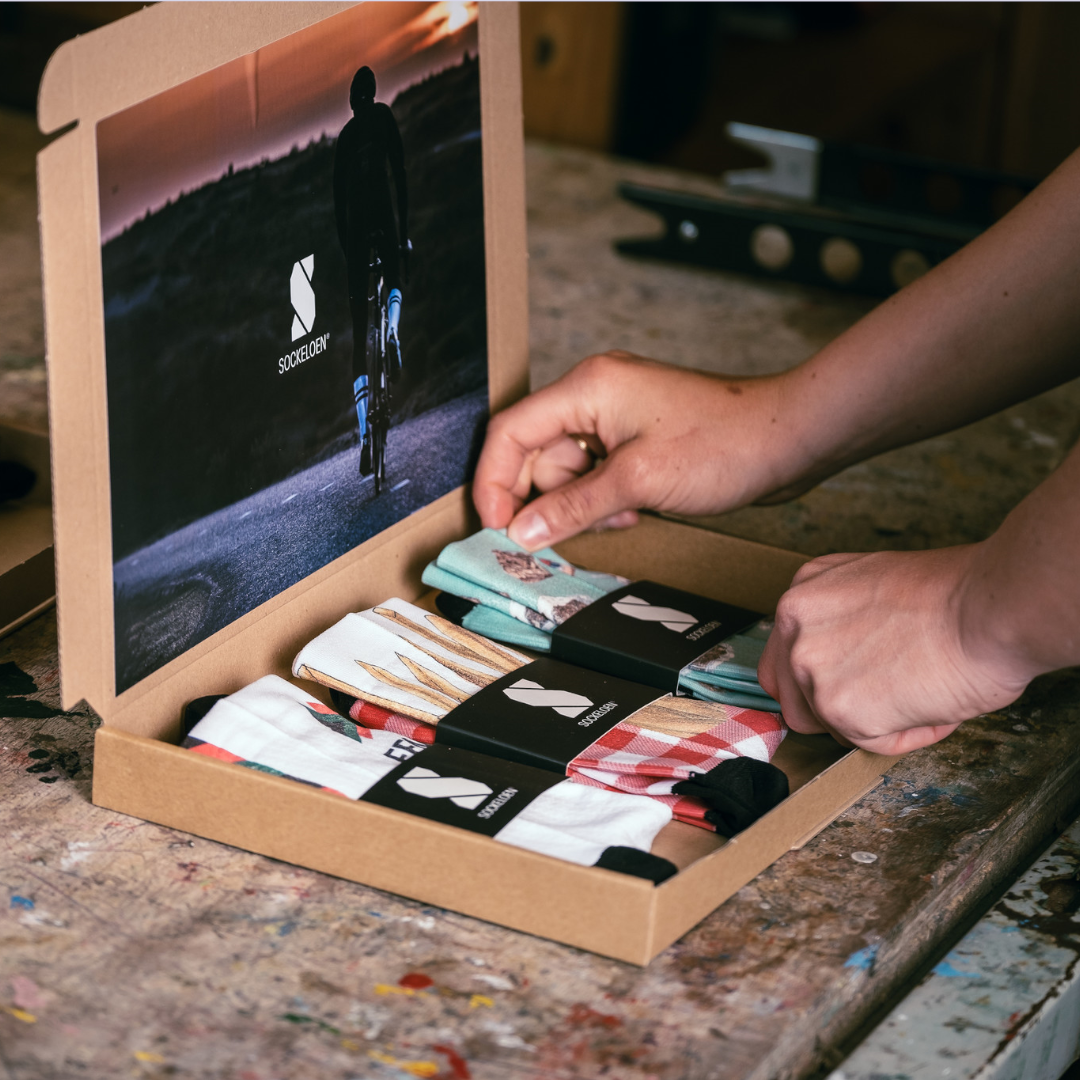 Looking for the best personal gift? This present is great for any occasion! 
Does your father already have it all? Are you out of ideas as of what to give your significant other? Do you want a personal gift but also something that's useful to the receiver? These custom printed socks might just be the solution to all of these problems!
At Sockeloen we offer the option to personalize and buy your own custom printed socks. You can easily create them in our online design tool on our website. Our custom printed socks are often used as a gift for many different occasions, but also as a way to make socks matching one's outfit. After you've designed the sock the way you like it, we'll get to work for you. First we'll check the design and center any photos and text on it if necessary. Then we'll print the design by hand on the sock and make sure everything lines out and looks as good as possible!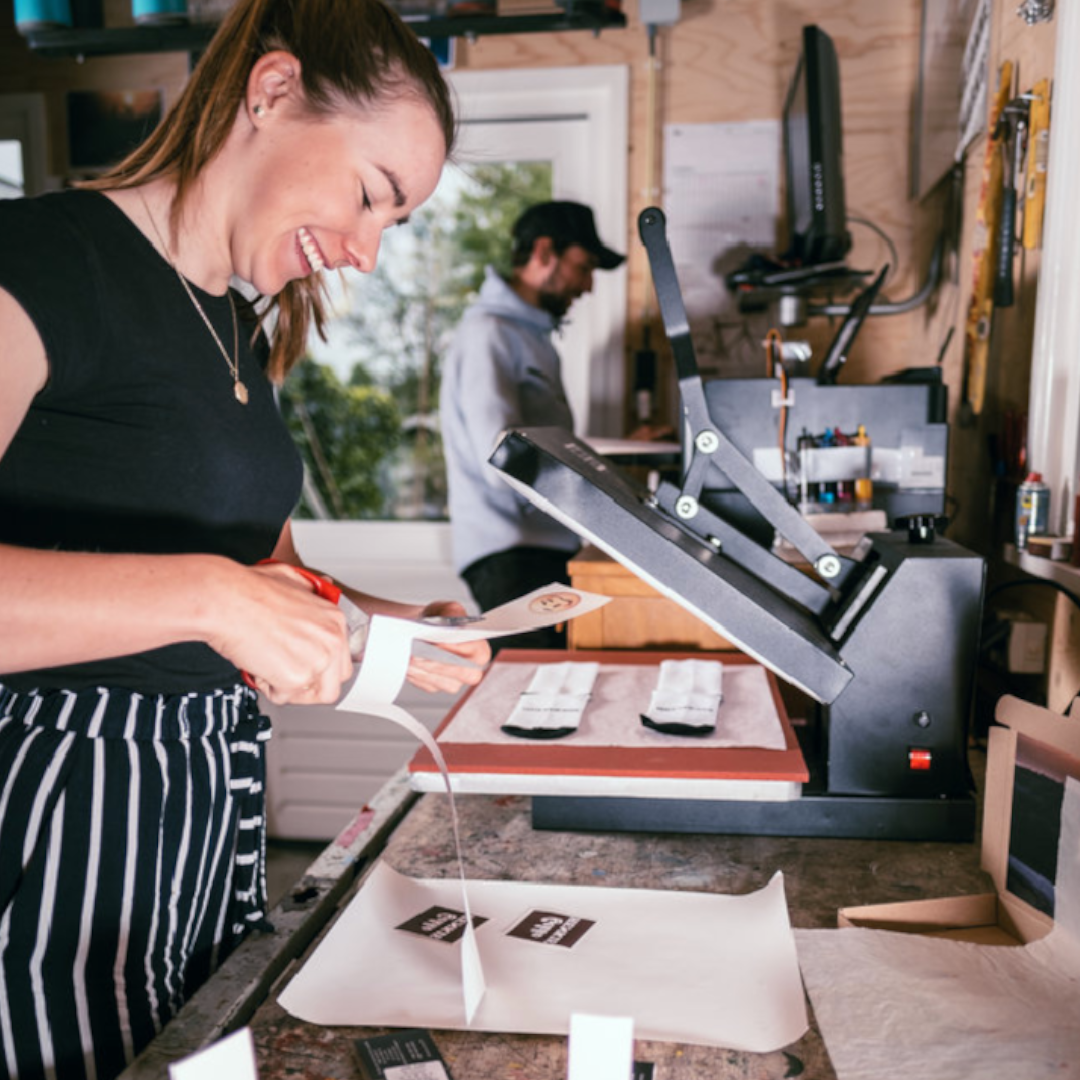 Socks for different occasions
Our standard designs
It doesn't matter what the occasion is, Sockeloen will be able to help you find and create your own unique sock! We've got some standard designs for different occasions like Christmas, Valentine's Day and Mother's and Father's Day. These designs can be personalized, for example by putting the name of your boyfriend or girlfriend on the sock and maybe even a photo. We've got face socks like the Christmas Elf sock, where you can put a photo of your own face or the receiver's face on the sock, which you can see in the picture below! We also have some standard printed designs which are not customizable, but are great as gifts too (click here to see our collection).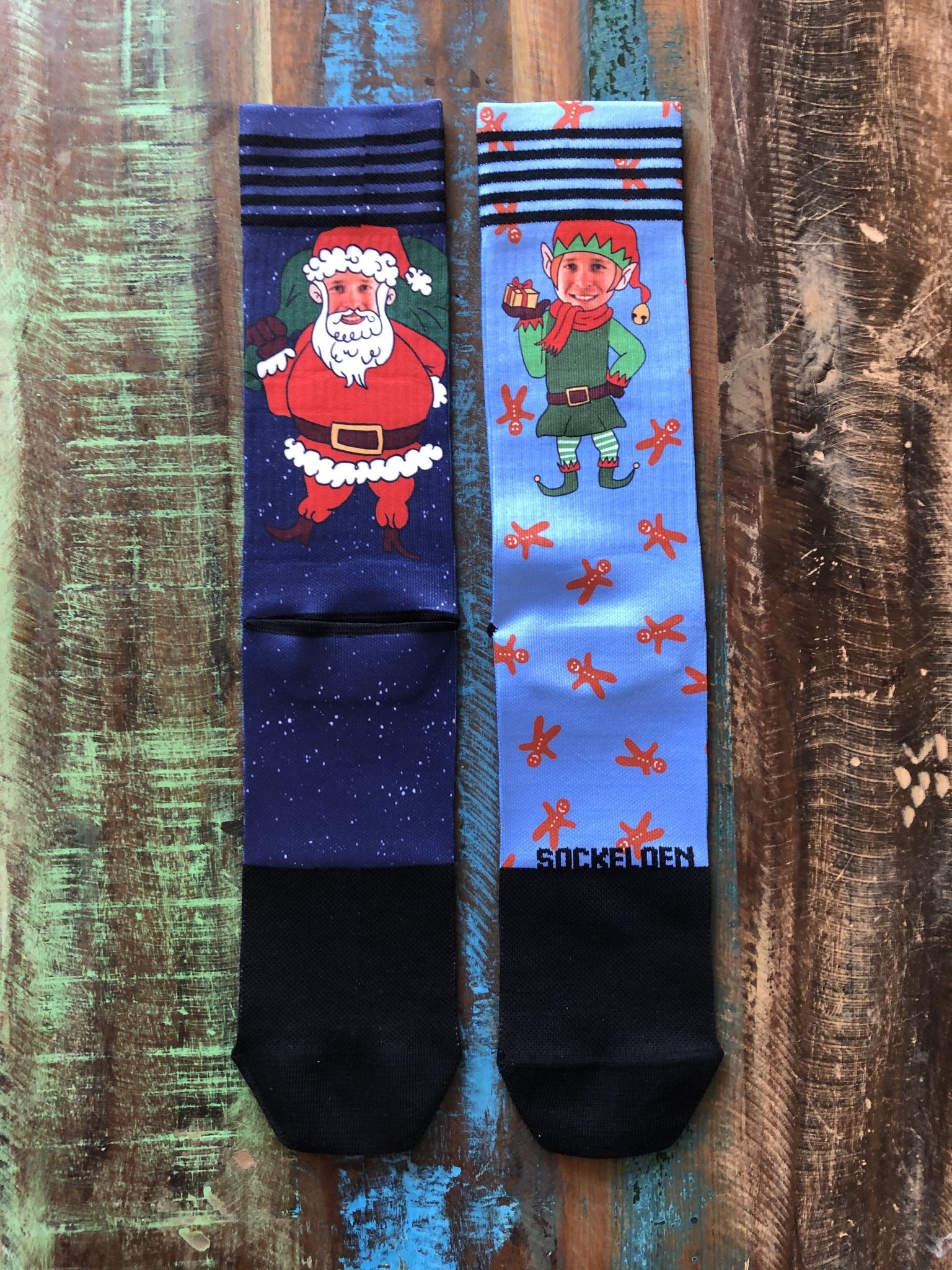 Cartoon socks
We also offer the option to create your own cartoon character to put on your sock! In collaboration with graphic designer Sven (@svenh2w) we made different cartoon style eyes, mouths, helmets etcetera you can choose from to put together your own face! You can change the colours to make it really look like you. Check out our video below to see how it works and get going by clicking here! This is of course also a great present for your friends, to give them a truly personal gift.
Create your own unique design
Besides our own standard designs, you can also make your own design for any occasion possible. For example as a wedding gift or for all the groomsmen, for the anniversary of you and your wife or husband, or for a birthday, graduation or any other party you can think of. You can personalize all our socks with any photo you want, so you can also make socks with your or the receiver's baby, dog or cat on it. 
Many (cycling) teams and crews have already made their own custom printed socks so they can match with each other ánd with their outfits. You can make a matching design and get every member a pair of socks with their own (nick)name on it. This is bound to turn some heads when you're all together wearing your socks ;)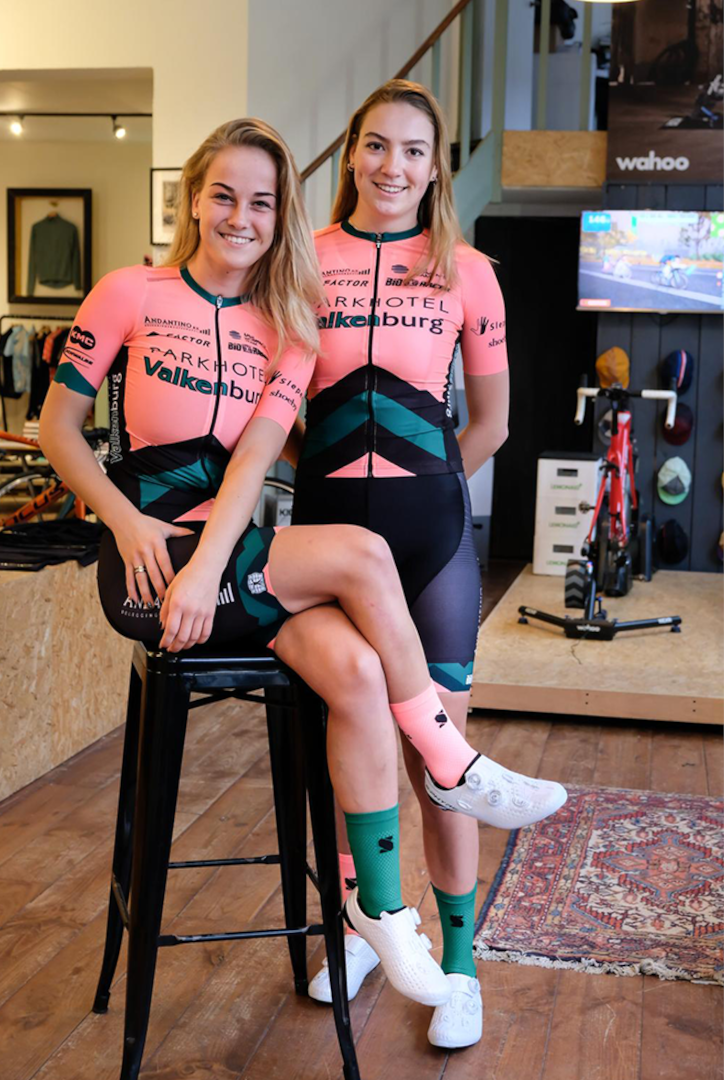 Businesses, fundraisers and teams
Last but not least it's also a great gift to give to your employees as a company, for example in the Christmas packages. To use as a promotional tool for raising awareness or to use during a fundraiser. For these options we recommend the custom woven socks, which are available for a lower price and with a minimum order of 50 pairs. We even have a fundraising option, where you can raise money for a good cause through our website, without taking any risks or having to pay for the production!
For more information about our custom woven socks, click here!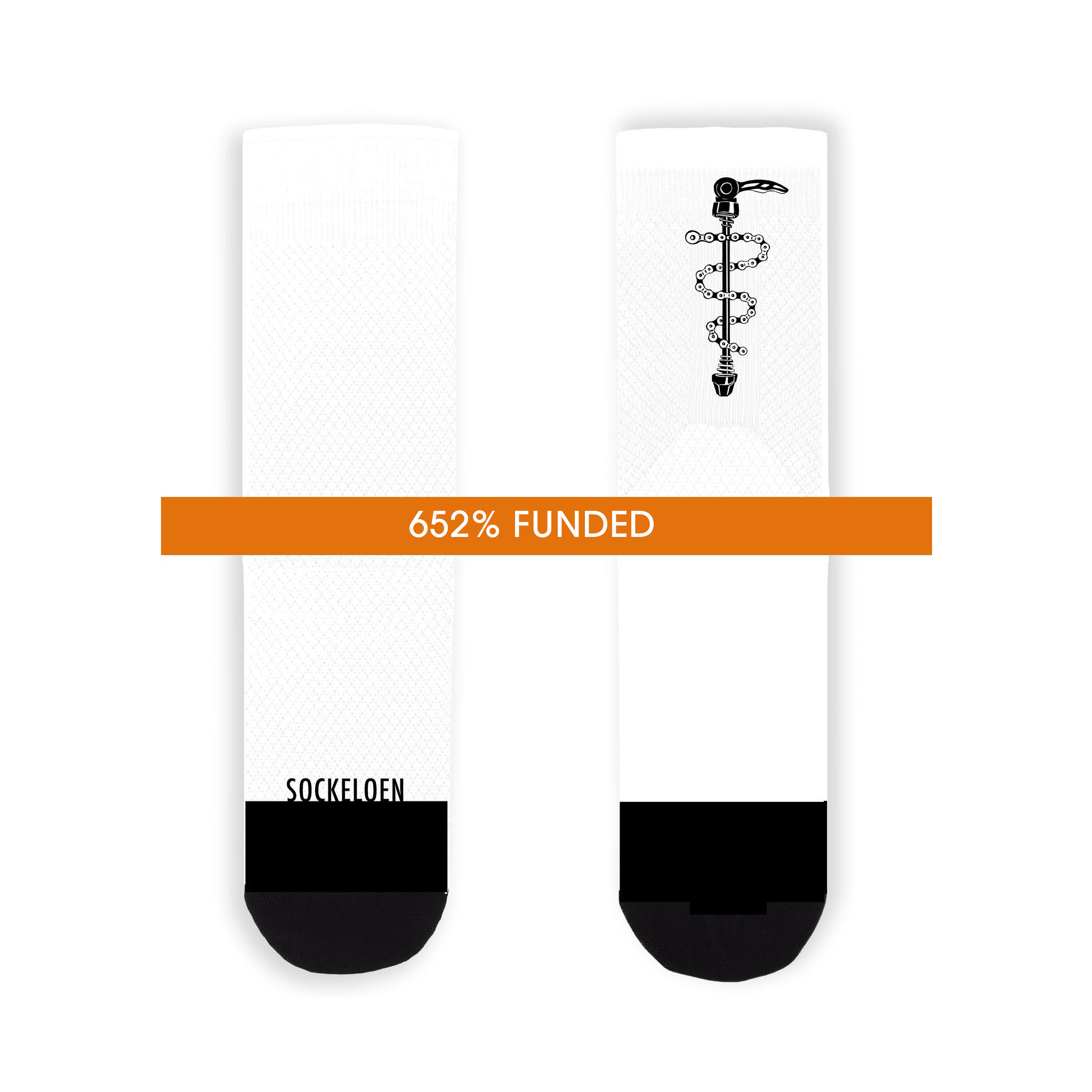 How to design your own custom printed socks?
To design your own custom socks, we've got a design tool on our website. Click here to go to the page with all the custom printed socks and choose the design you like. We've got designs for special occasions like mentioned before, but we also have some standard designs where you can use the name and/or picture you prefer. Furthermore we have the Blanco option, where you can fully design the sock to your liking. We also have different types of socks. Almost all of our options will be printed on the same kind of sock which is made from polyester, polyamide and elastane. The socks we print on are for 75% made out of polyester, because we use a heat press to print the design on the socks. But we also have the option to customize aero socks!
So to start designing you have to choose the design you like, for example the Valentine's Day sock or the Blanco sock. When you click on the preferred design, you can choose the size, height and quantity you like and then click on Customize. Now you can start designing! We've put some standard options in our design tool for you like a name, but you can use any text or picture you want.
If you like to design something with a pattern or repeating photos for example, we advise you to design this in your own editing program. Even Paint will do fine in this case. This way you can upload it as one big image and then fit it on the sock by changing the size of the image. If an image sticks out of the boundaries of the sock, it's no problem, but everything outside of it will be cut off.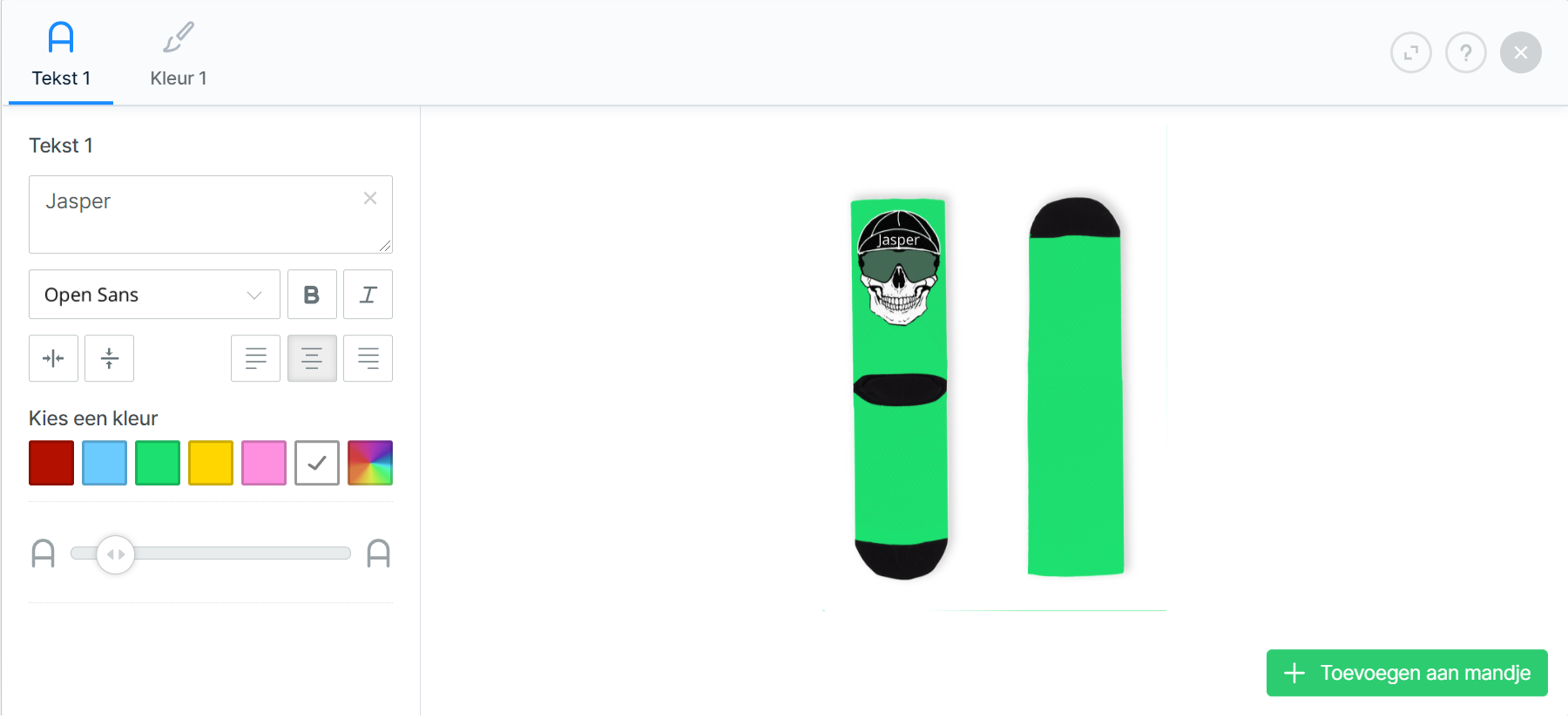 Why Sockeloen?
Sockeloen is one of the only companies in the world who offers to print a digital design directly onto a sock. This is very unique and we're proud to be able to offer to our customers this way to create a truly personal gift. Besides our unique production process, we also offer one of the quickest delivery times in the industry, which you can read more about below. This way you'll be able to have your present in time for the occasion! Last but not least, Sockeloen offers great quality socks, made in Italy from only the best materials. These socks are not only great to wear as casual socks, but they're made to be used as sports socks too. Even though we're mainly focussed on cycling, we've had a lot of feedback that they're great as running, hiking, fitness and even skiing socks too! Click here if you'd like to read some of our customer's reviews
Quick delivery
The great thing about Sockeloens custom printed socks is that you can have them delivered to you relatively quickly. If it's not around a big holiday like Christmas or Valentine's Day, we usually ship them within two working days. Around holidays we have more orders so it may take a bit longer, but no more than 7 working days. How long the shipping will take, depends on where you live. Below we have a list of the most common countries we ship to, but you can find the durations for every country in this overview of PostNL (click here). Depending on how many socks you order, we also offer free shipping to all countries in the European Union!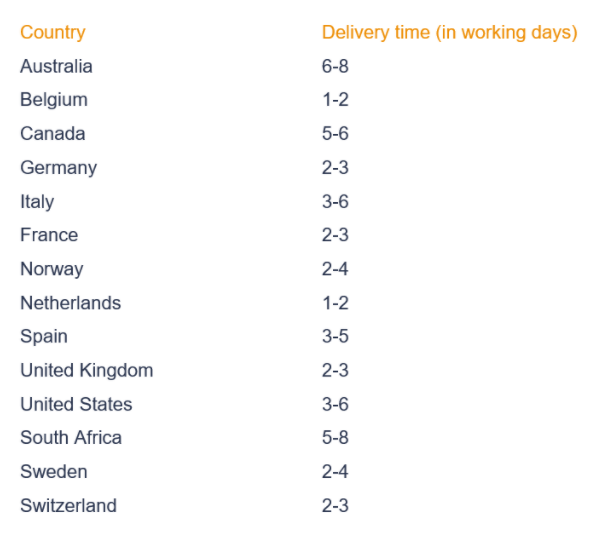 Leave a comment